AVer EVC150 POINT-TO-POINT VIDEO CONFERENCING
| | |
| --- | --- |
| ราคา | ฿ 0.00 |
| จำนวนที่จะซื้อ | |
| ราคารวม | ฿ 0.00 |
Point-to-point, New eCam Focus with 18X Total Zoom
ยี่ห้อ AVer รุ่น EVC150
The EVC150 is video conferencing's price-to-performance leader, offering small to medium-scale organizations a uniquely cost-effective full HD video conferencing solution. The EVC150 features real-time full HD video streaming and HD 720p content sharing along with a PTZ camera, an microphone array, a sleek UI and a compact system design. In addition to its impressive hardware, the EVC150 comes with a 3-year standard warranty and remarkably low total cost of ownership, translating into an astounding return on investment. Whether for point-to-point conferencing, cloud-based video collaboration or hardware system integration, the standards-based EVC150 is the system of choice for savvy VC users.



Full HD video & HD content sharing
Experience natural, real-time video communication on one monitor at HD 1080p 30fps, while sharing presentation files, animation, visualizer images and more on another at HD 720p 30fps, creating a smooth, interactive video conferencing experience.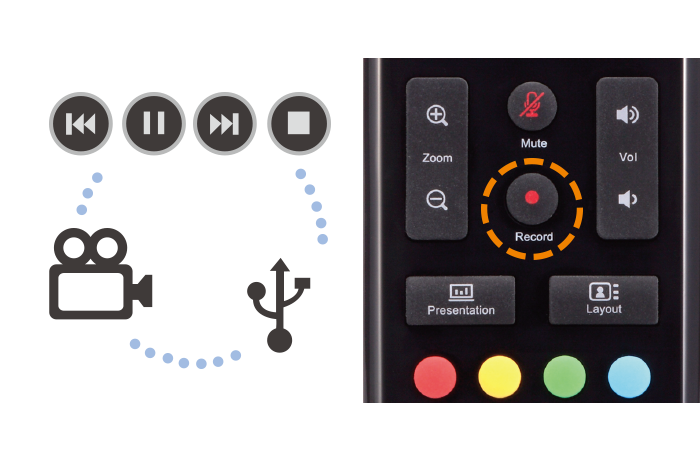 One-touch recording
Record your video conferences- including video, audio and shared content- directly to a USB flash drive, creating video archives and helping avoid post-meeting information loss. Play back recorded meetings using your EVC150, or on your PC using AVer's VCPlayer software.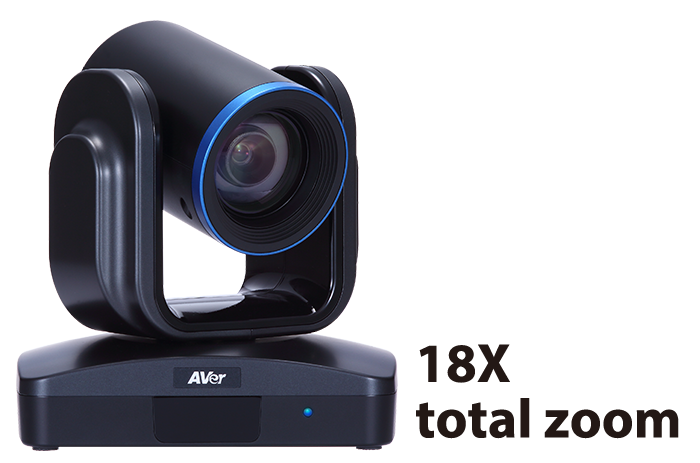 PTZ camera with 18X total zoom
The EVC150's powerful full HD PTZ camera offers 12X optical zoom plus 1.5X digital zoom, as well as +/-130° pan and +90°/-25° tilt, quick auto-focus and clear close-ups of participants, making it ideal for any size of conference room.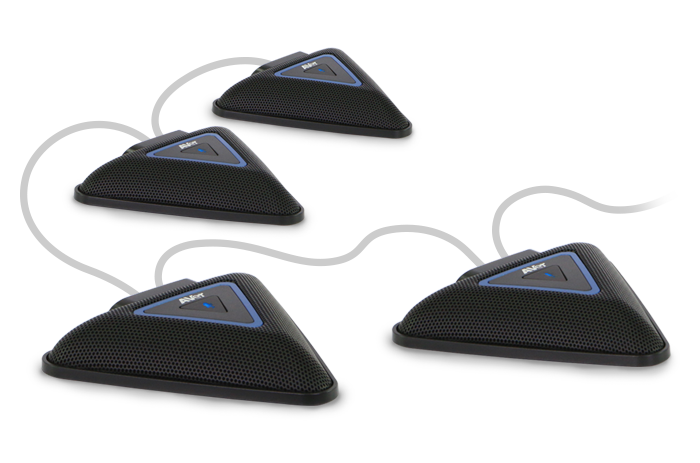 Connect up to 4 microphones via daisy-chain
The EVC150's all-new microphone array and codec employ an array of sophisticated audio processing technology, such as advanced noise reduction, automatic gain control and echo cancellation, producing crisp, true-to-life sound even better than previous AVer systems.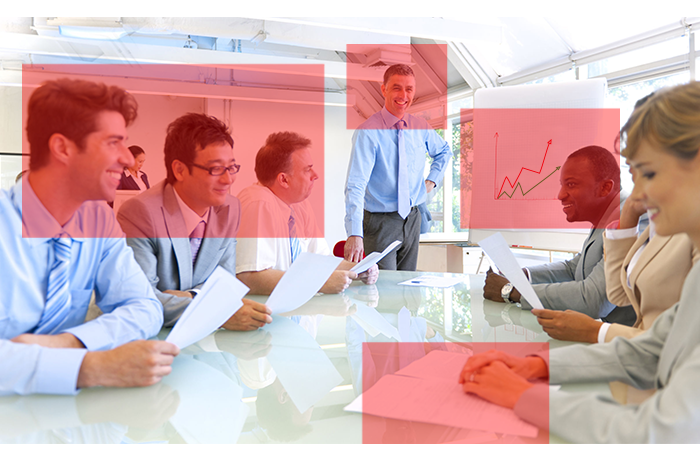 Remarkable 100 camera presets
No need to waste time panning and zooming manually during EVC150 video conferences – simply program its presets on the remote control ahead of time, and during meetings you can shift the camera from a wide view of the room to a close-up of an object with just the press a button.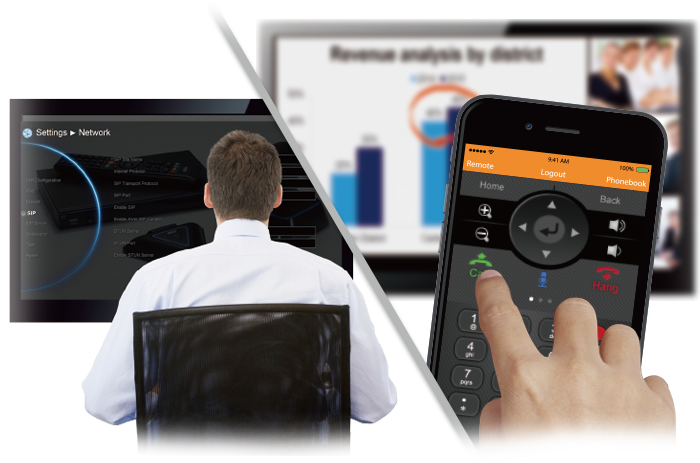 Handy integration & remote access tools
Access EVC150 remotely and troubleshoot issues using WebTool, AVer's web-based management platform, and leverage advanced network technology Wake-on-LAN (WOL), Telnet, network test, and HELPeRTM to make the EVC150 the perfect device for integration via LAN or the internet.
Specs
Package Contents
Main system unit (codec)
The New eCam PTZ camera
EVC microphone array
IR remote control with batteries
Power supply (12V/5A)
VGA cable (3M)
Power cord (1.8M)
Camera cable (3M)
Microphone cable (5M)
Network cable (3M)
HDMI cable (3M)
Warranty card
Quick guide
Communications
H.323, SIP and SIP TLS standards
64Kbps~4Mbps
RJ45 network LAN (10/100/1000)
Manual bandwidth settings
Camera
Support for single camera*
The New eCam PTZ camera :
2-mega pixel CMOS sensor
18X total zoom
±130° pan; +90°/-25° tilt
Field of view (H): 72°
Field of view (V): 43°
Field of view (Diagonal): 82°
People Video Resolutions
HD1080p (1920 x 1080)
HD720p (1280 x 720)
480p (848 x 480)
4CIF (704 x 576)
4SIF (704 X 480)
360p (640 X 360)
W288p (512 x 288)
CIF (352 x 288)
SIF (352 X 240)
All resolutions at 30fps
Content Video Resolutions
Supported Resolutions:
WXGA (1440 x 900)
HD (1360 x 768)
SXGA (1280 x 1024)
SXGA (1280 x 960)
WXGA (1280 x 800)
XGA (1024 x 768)
SVGA (800 x 600)
VGA (640 x 480)
Output Resolutions:
HD720p (1280 x 720) up to 30fps
Video Standards
H.264, H.264 HP, H.264 SVC, H.263+, H.263, H.261 (available with future firmware upgrade)
H.239 dual video streams
BFCP content sharing
Video Inputs
Video Outputs
Audio Standards
G.711, G.722, G.722.1, G.728, G722.1C licensed from Polycom®
Audio Features
Automatic gain control (AGC)
Advanced noise reduction
Acoustic echo cancellation (AEC)
Audio Inputs
EVC microphone daisy chain up to 4
Line-in (3.5 mm)
Audio Outputs
Digital audio on HDMI cable
Line-out (3.5 mm)
Other Supported Standards
H.224, H.225, H.245, H.281, H.323 Annex Q, H.460
User Interface
Multiple layout styles
User-friendly OSD (22 supported languages: English, Traditional Chinese, Simplified Chinese, Czech, Danish, Dutch, Finnish, French, German, Hungarian, Italian, Japanese, Korean, Norwegian, Polish, Portuguese-Brazil, Romanian, Russian, Spanish, Swedish, Thai, Turkish)
Display/edit site name
Network
10/100/1000Mbps
NAT/firewall traversal
High Efficiency Lost Packet Recovery (HELPeR™)
API support via Telnet
Wake-on-LAN (WOL) support
IPv4 and IPv6 support
QoS
Network Test
Security
AES (Advanced Encryption Standard) function (128-bit)
Password protection for system settings
Password protection for remote system management
Web Management Tool
Remote management through the Web
Live monitoring via the web
Firmware update via Ethernet/Internet
Phonebook download/upload/edit
Restore system settings
Value-Added Features
Meeting Recording
In meeting and offline recording
Save directly to USB flash drive
Supports screen re-layout during playback
Playback and file conversion via VCPlayer software (.mov/.mp4 format)
Speed dialing via hot keys (10 sets)
camera presets (100 positions)
Network Time Portocol (NTP)
ScreenShare support
VCLink support
SnapShot
LDAP directory
Supports SIP voice calls
Power Supply
AC 100V~240V, 50/60Hz
Consumption: EIAJ 12V, 4A
Environmental Data
Operation temperature: 0°C~40°C
Operation humidity: 20%~80%
Storage temperature: -20°C~60°C
Storage humidity: 20%~80%
Physical Characteristics
Package dimensions: 376 x 300 x 243 mm
Package weight: 6.49kg/14.31lbs
Main system (codec): 260 x 158.7 x 33 mm
New eCam PTZ camera: 180 x 144 x 184 mm
EVC microphone array: 131.9 x 118.6 x 25.5 mm
Optional Accessories
Additional microphone
eCam camera mount
Replacement eCam Focus camera